Features:
DSO cooled camera line is the most advanced product line in Player One history. We start the project from 2021, through a lot of modify and rebuild we made this final version. It brings our newest technology and design to everyone, we are very proud to introduce this camera line.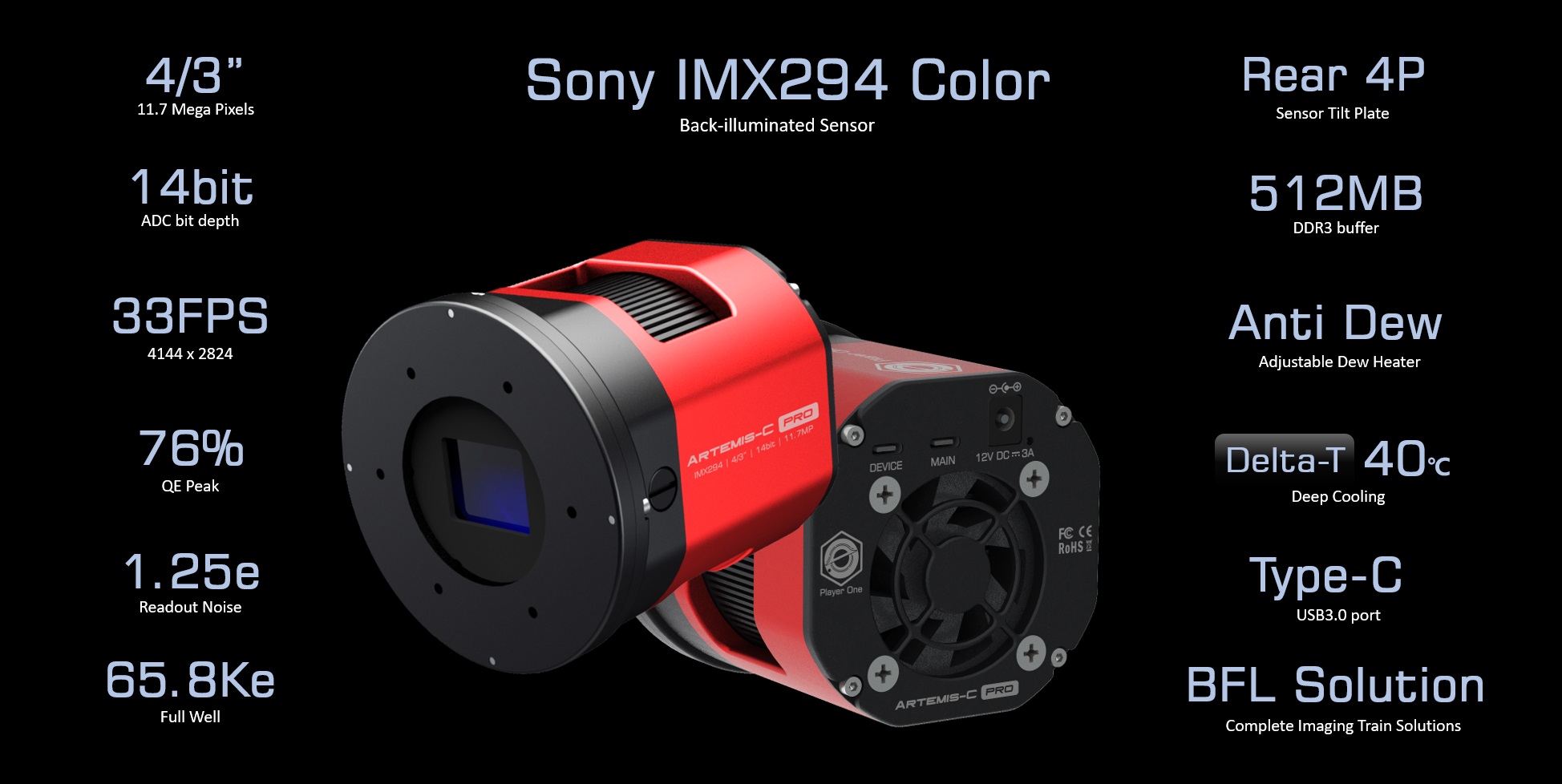 Power supply is not include in camera package, high quality 12V 5A power supply link: https://player-one-astronomy.com/product/12v-5a-power-supply-dc5-5-x-2-1mm/
Drivers and softwares download: http://player-one-astronomy.com/service/software/
Manuals download: http://player-one-astronomy.com/service/manuals/
Artemis-C Pro KIT setup tutorial (Demo with Poseidon-C Pro):
Product Description
New Cutting-edge Design
Polygon like regular hexagon is very Player One, the DSO cooled cameras we want to make it more beautiful and practical. After a lot of trying,  we fix the final style, which uses a scientific and technological octagon to construct the main body line and 4 sides are cambered surface, supplemented by round chamfers to achieve both rigidity and flexibility. The front piece is round to avoid diffraction on RASA. The positive red, which is like a summer fire, is matched with the low-key and steady black, and the super-fine frosting process on the entire surface makes the camera look luxurious and cool, and keep Player One style.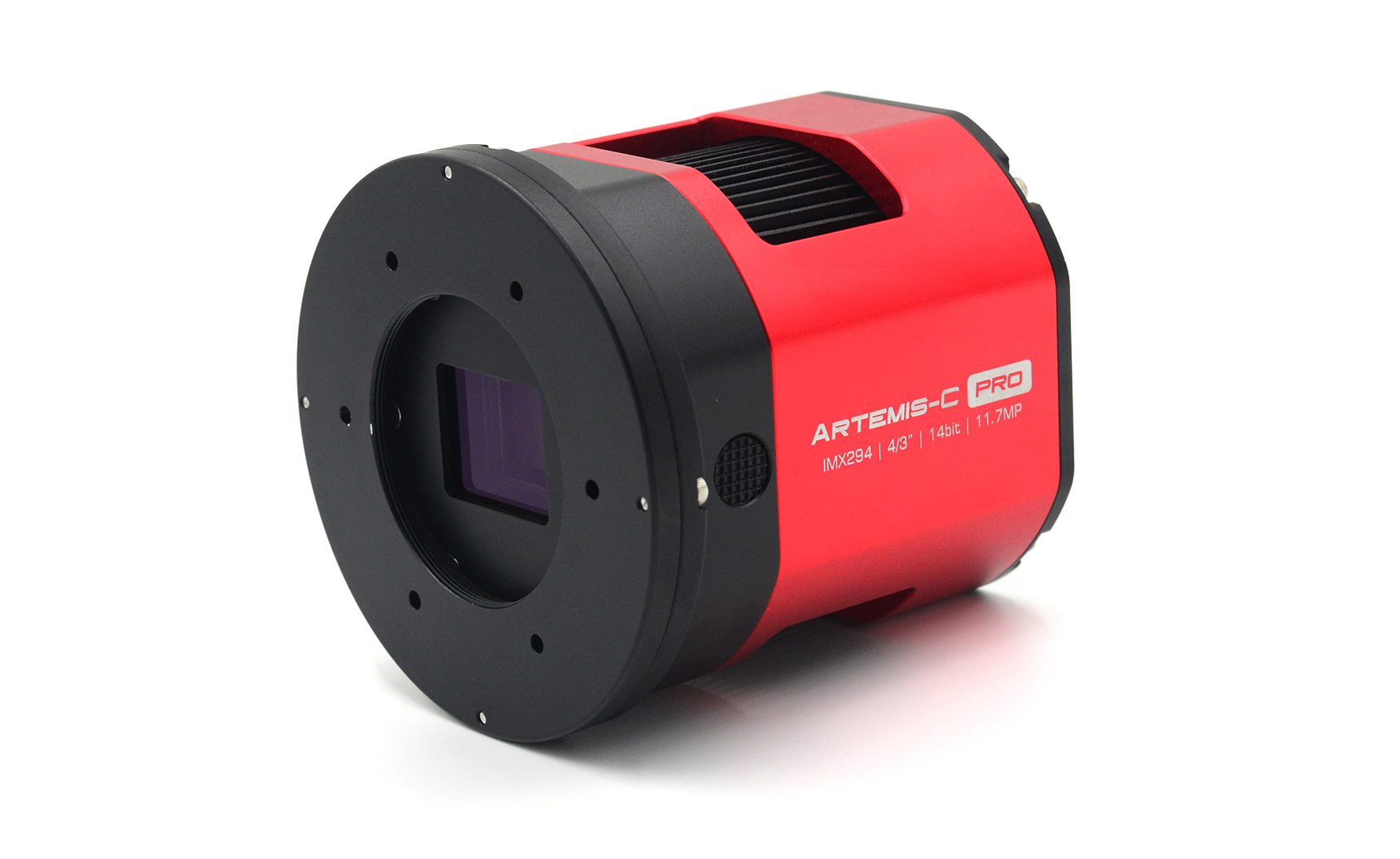 Artemis-C Pro (IMX294) cooled camera is developed by Player One Astronomy, it's design for advanced DSO imaging. it adopts Sony IMX294 4/3″ format color sensor. The 4.63um pixel size accommodates a well depth of 65.8Ke with a total of 11.7MP  (the resolution is 4144*2824), and the diagonal is 23.2mm.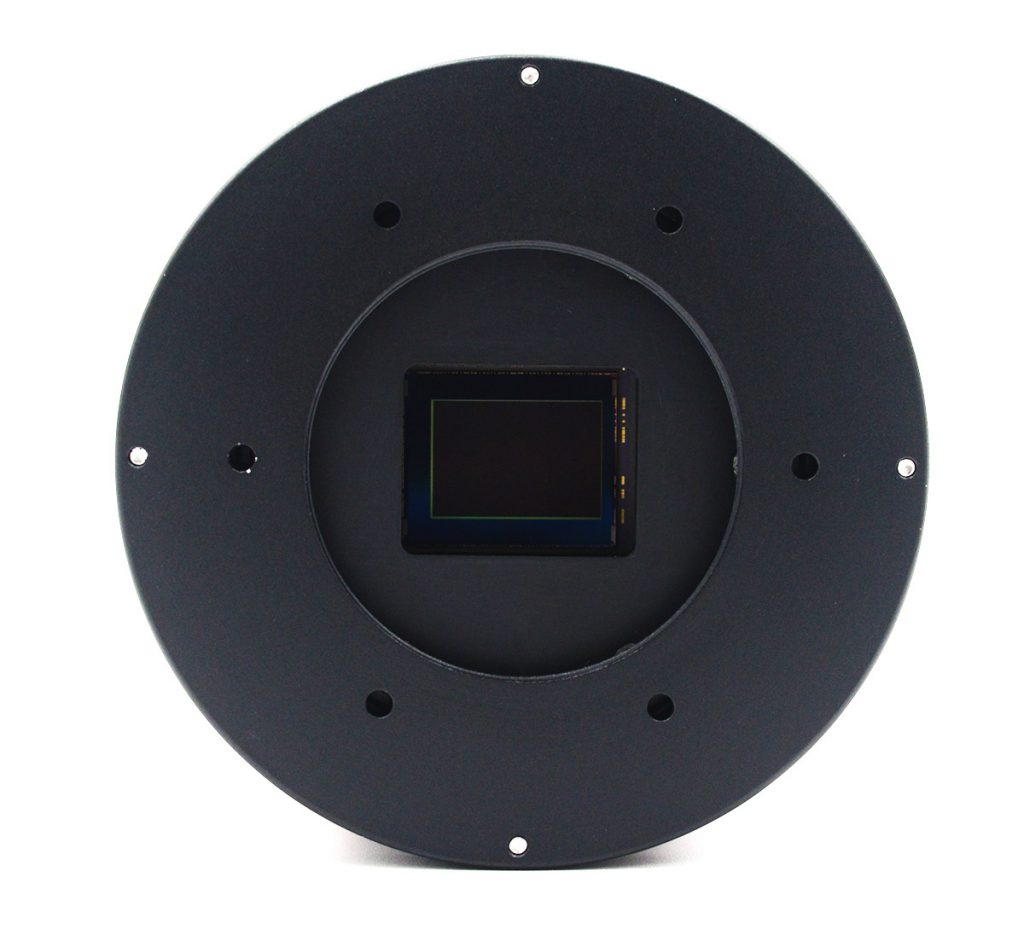 Rear Adjustment 4 Point Sensor Tilt Plate
When taking deepsky objects, using sensor tilt plate can get a much smaller field curvature of the telescope. We adopts rear Adjustment and 4 point tilt plate, it has a lot advantages in usage.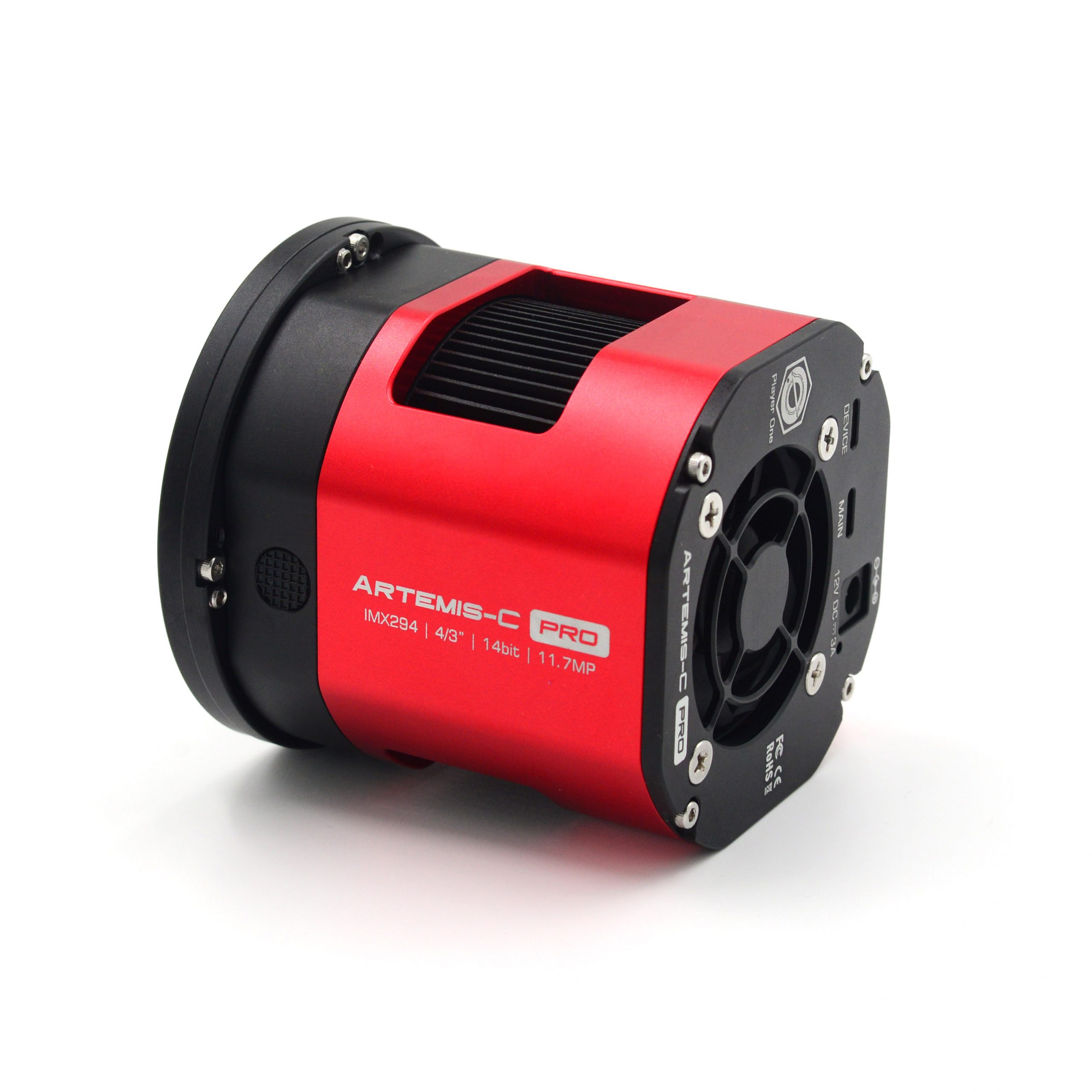 4 Point adjustment is easier to know which corner is needed to adjust. The built-in high-density sponge shading pad can block the light from the side slits without any side leakage.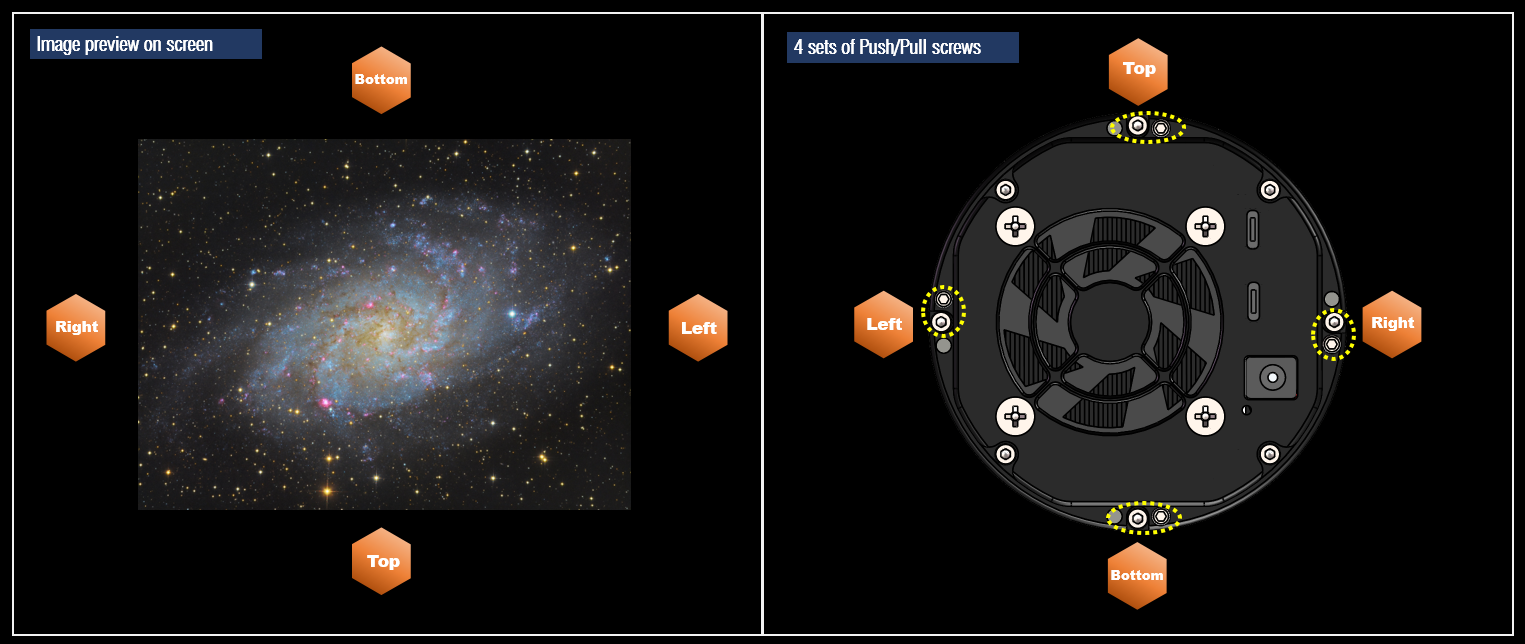 For understand 4 point adjustment method, we made a example for users:

Deep Cooling
Player One cooled camera series use 2 Stage TEC Cooling unit, after improved the structure design to reject the heat back to camera chamber, Camera Delta-T can reach over 40℃.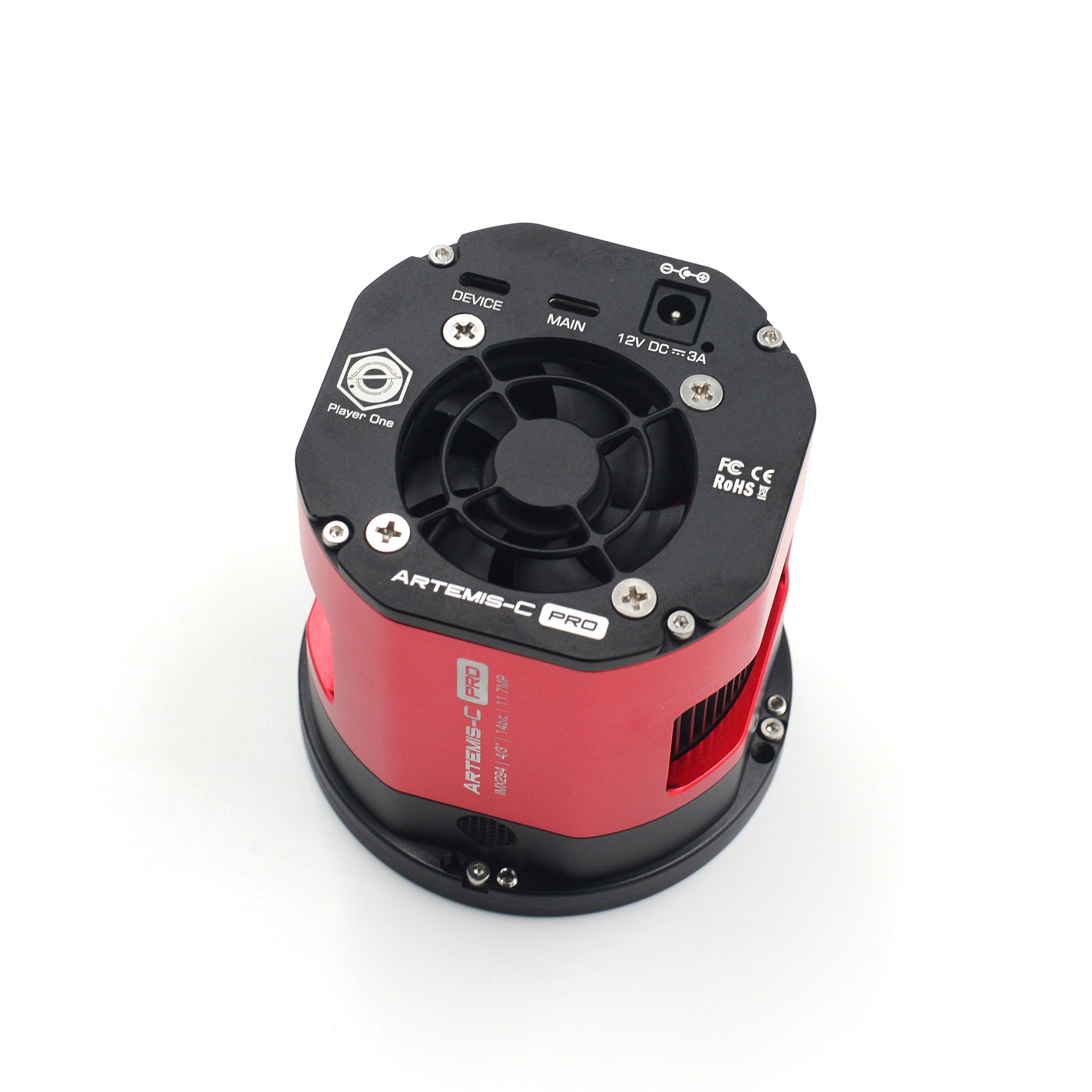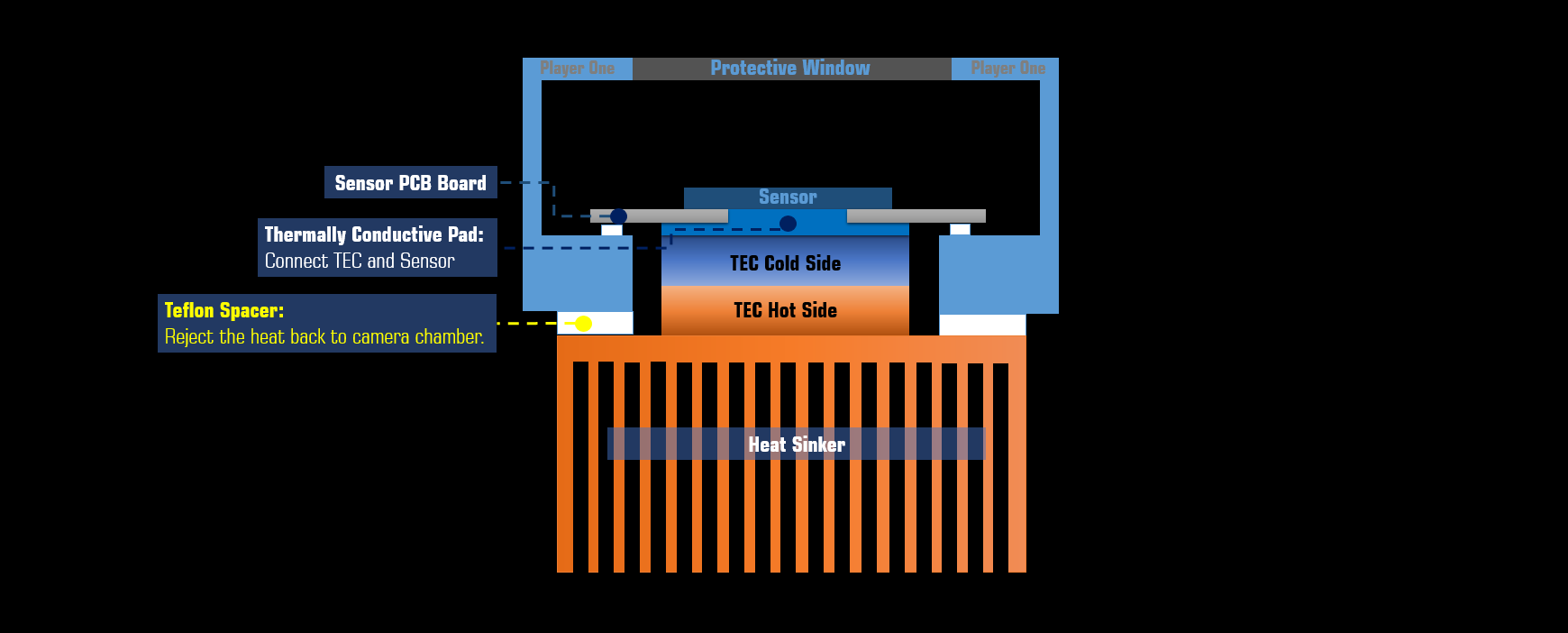 512MB DDR3 Cache
As an improvement, DDR3 cache in cooled cameras are increased to 512MB. It helps stabilize and secure data transmission, it effectively avoids frame dropping and greatly reduces readout noise.
With the DDR3 cache, the camera does not have high demands on computing needs any longer, it will still has excellent performance even if it is connected to a USB 2.0 port.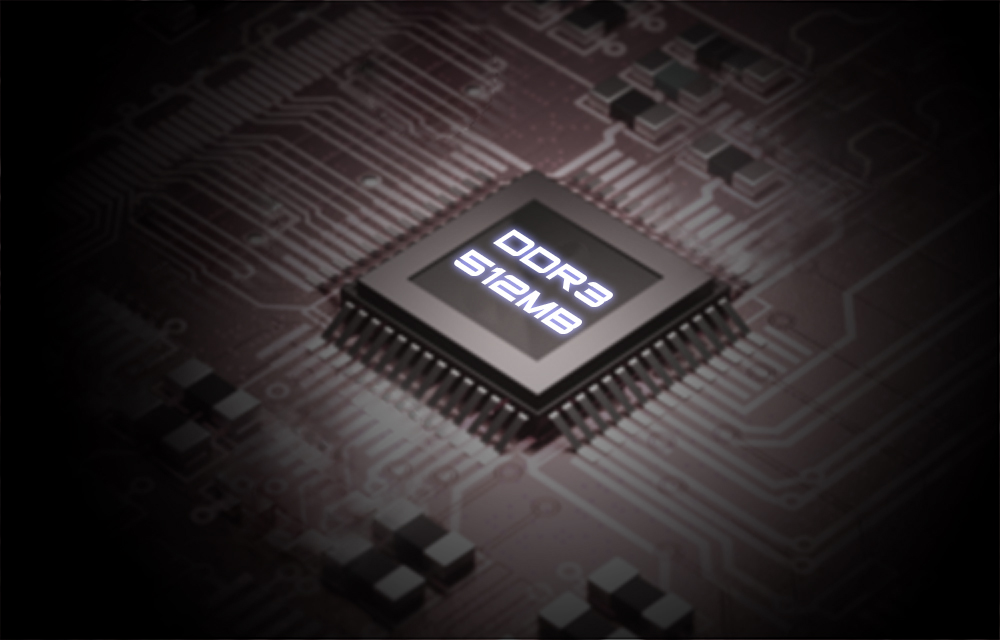 STARVIS Technology
Artemis-C Pro (IMX294) cooled camera based on Sony STARVIS technology, it is back-illuminated pixel technology used in CMOS image sensors.
4/3″ Format
Artemis-C Pro cooled camera has 4/3″ format (19.2mm*13mm), this size is very popular for DSO imaging.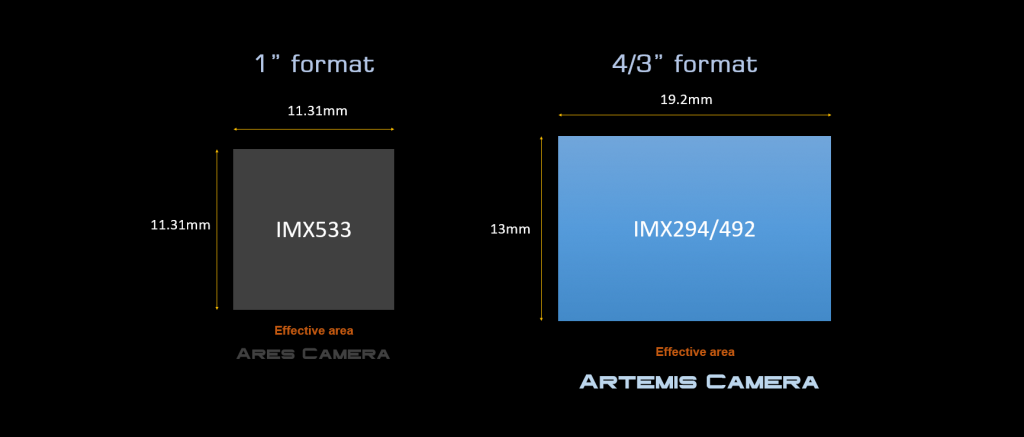 14bit ADC
IMX294 sensor has 14-bit on-chip ADC. 14bit (16384 levels) provide higher sample resolution than 12bit (4096 levels).
Type-C Data port and Power port
Back piece of cooled camera has 2 Type-C data port and 12V DC 5.5×2.1mm power port.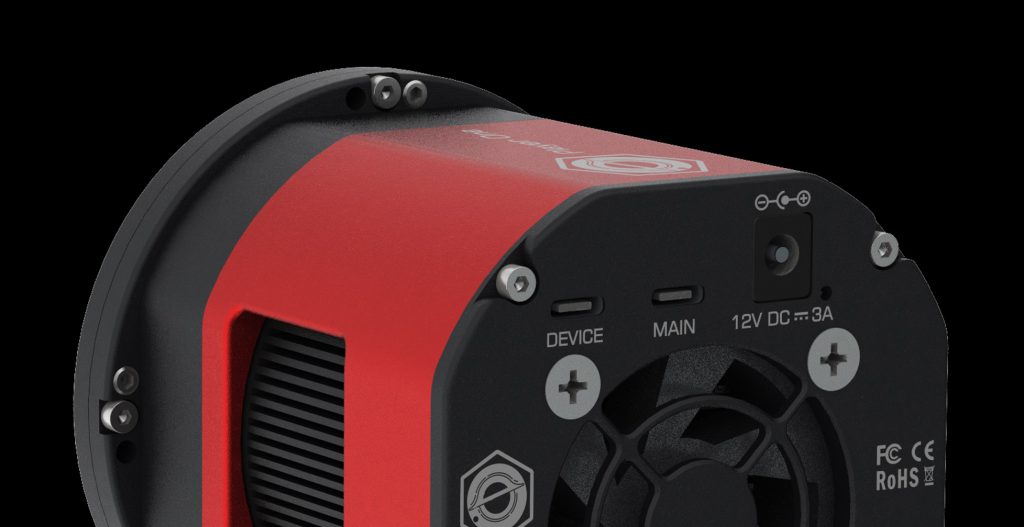 Main data port support USB3.0 protocol, the camera can run 33fps under RAW8 mode. Type-C port is easier to plug in when assemble the imaging equipment in night.
When recording images, since the actual writing speed will be affected by the writing speed of the hard disk itself, when the hard disk writing speed is slow, the recording may not reach the theoretical speed. It is recommended that you use a high-quality solid state drive to record data to give full play to the performance of the camera.
The camera has 12V DC5.5*2.1mm port to provide enough power to TEC cooling system. If you don't need to power up cooling, only need to connect the main Type-C port, the camera will works as a uncooled camera.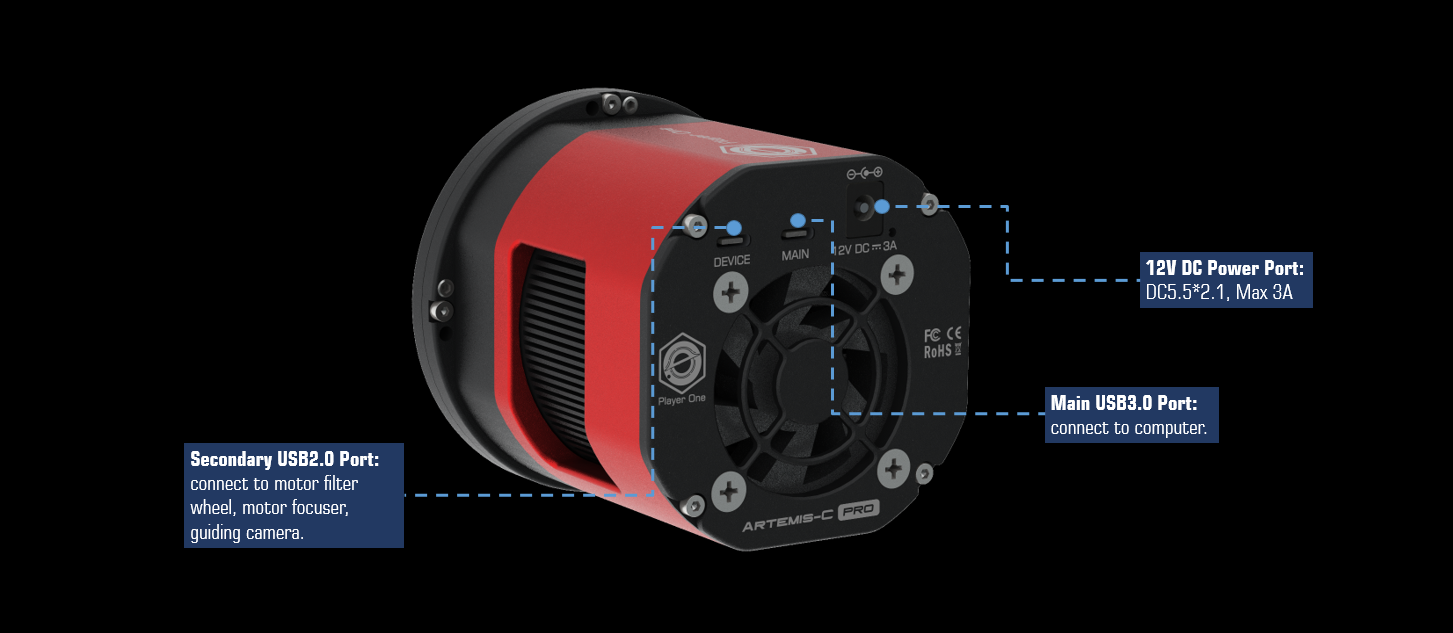 Standard Cable Usage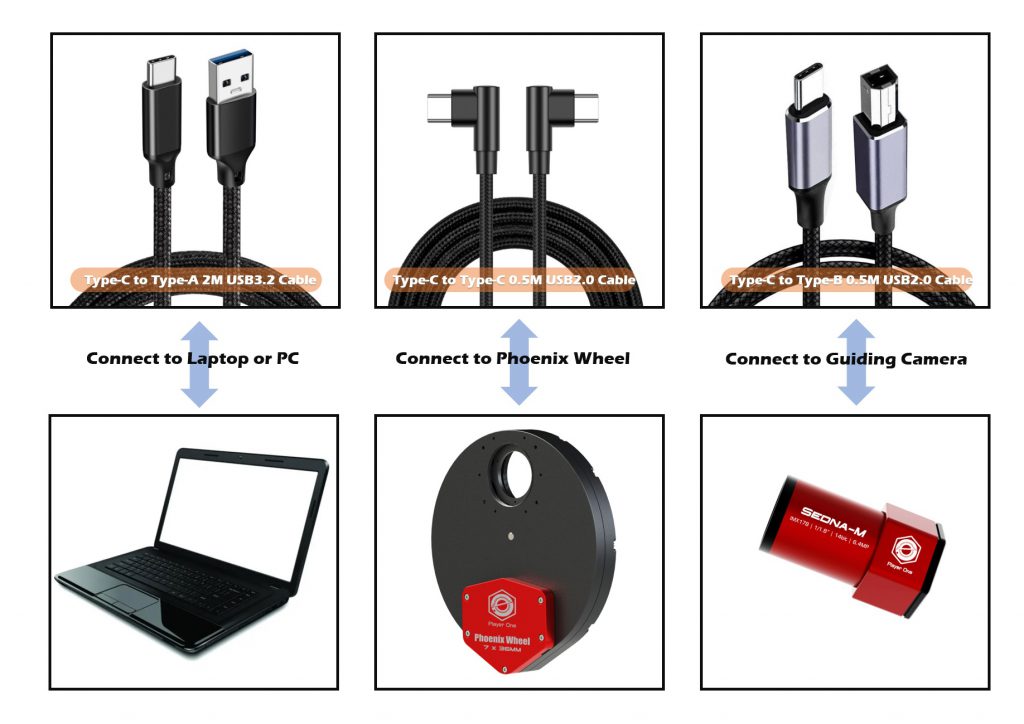 Cooling System and Anti-Dew Heater
In ASCOM window, we provide 3 adjustable parameters: Target temperature, Fan Speed and Anti-Dew power.
Standard Delta-T: 40℃ (±2℃) , when ambient temp 30℃, fan speed 100%, dew heater 10%.
Recommend Delta-T settings: 35℃ below ambient, fan speed 70%, dew heater 10%, power consumption 40- 60%.
The rotation speed of cooling fan is also adjustable, the default value is 70% speed.
Dew problem is the biggest enemy in astro imaging, the camera integrated anti-dew heater in front of the camera. The heat power is adjustable.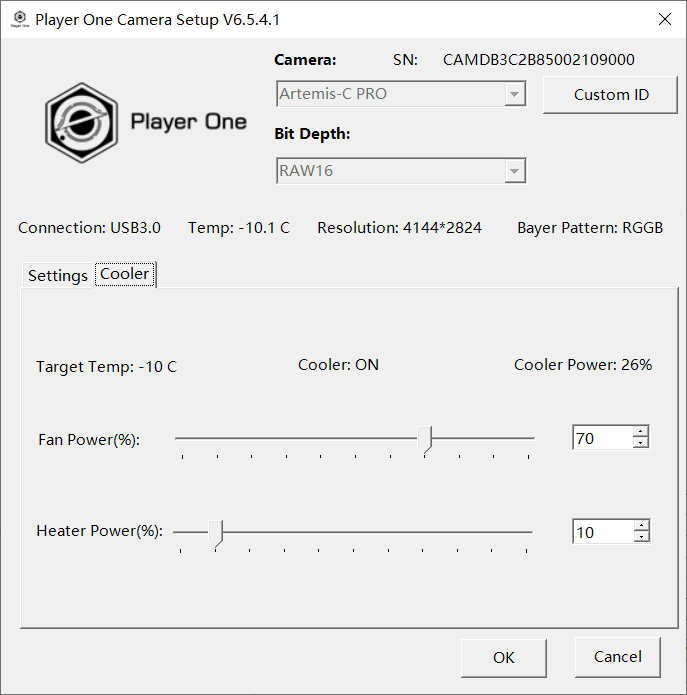 Overvoltage and overcurrent protection mechanism
Player One cameras produced by us ensures the safety of your camera and other equipment through overvoltage and overcurrent protection mechanisms.
Performance
At gain=0, the camera has 13 stops dynamic range and 65.8Ke full well capacity, readout noise is 7.8e.
HCG open at gain=120, the camera has 12.97 stops dynamic range and 14.5Ke full well, readout noise drop to only 1.8e.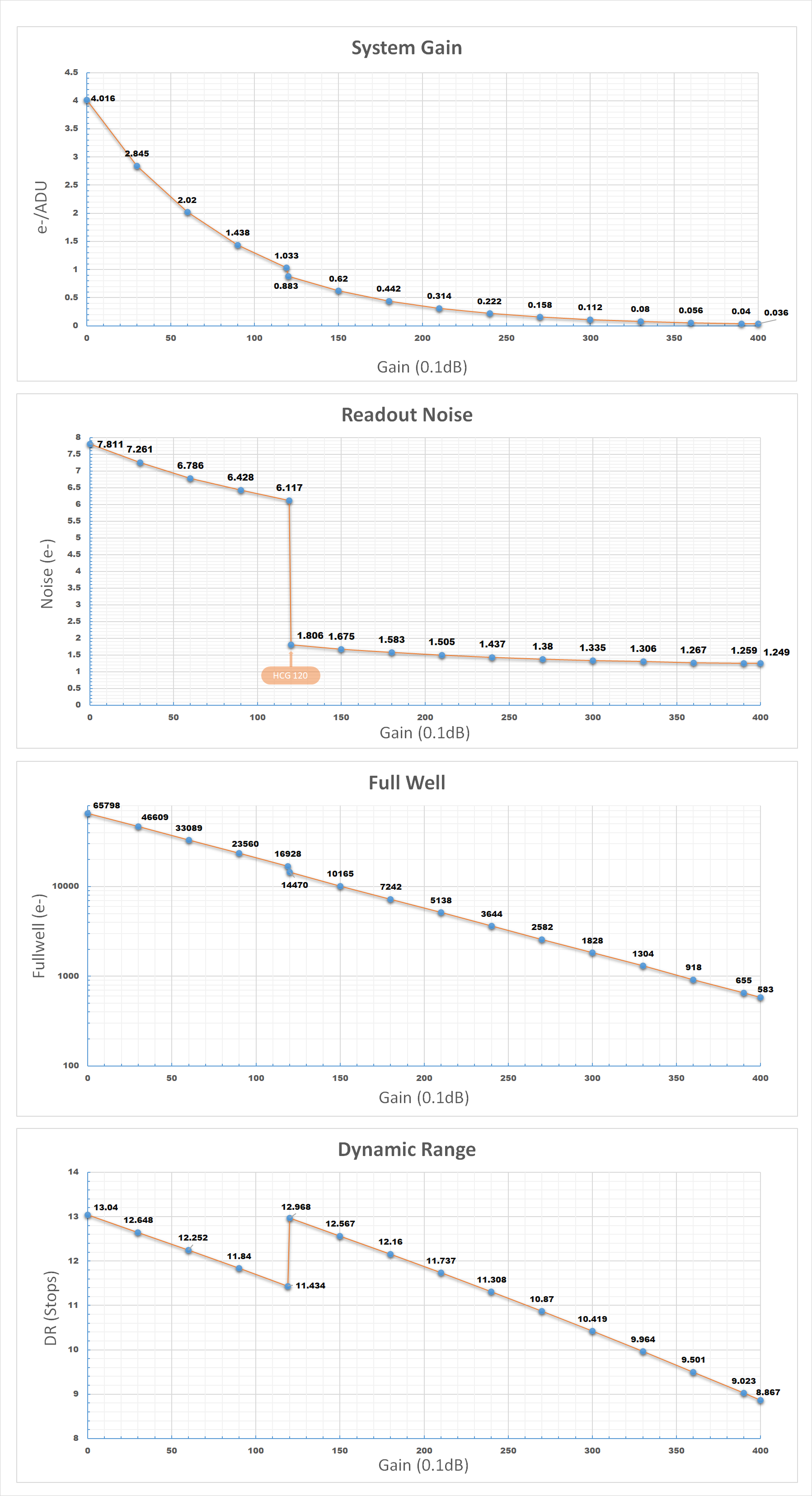 Frame rate
Artemis-C Pro cooled camera can run 33FPS under RAW8 mode, that's much faster than existing models on market.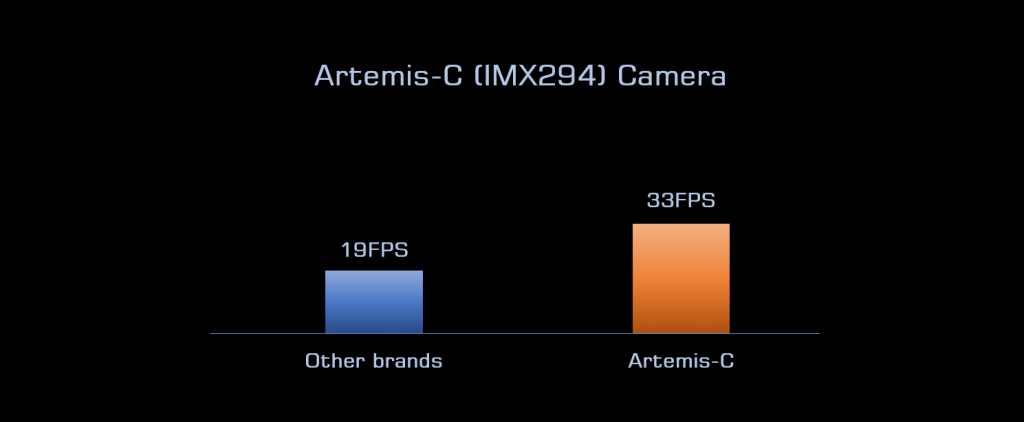 Readout Noise
Regarding readout noise, we solemnly promise that all values are obtained from actual tests.  And for users, you could use Sharpcap 4 for testing. SC4 has a function called Sensor Analysis, provide a very simple way to test readout noise.
We wrote a tutorial on our website: https://player-one-astronomy.com/service/manuals/
If you are interested in readout noise testing, you may try it yourself, which is very simple.
Dark Frame
We provide original dark frame of Artemis-C PRO camera for check:
Dark frame 1: Gain=120, offset=50, exposure=300s, Temp=-10℃: Download Dark frame
Dark frame 2: Gain=0, offset=5, exposure=300s, Temp=-20℃: Download Dark frame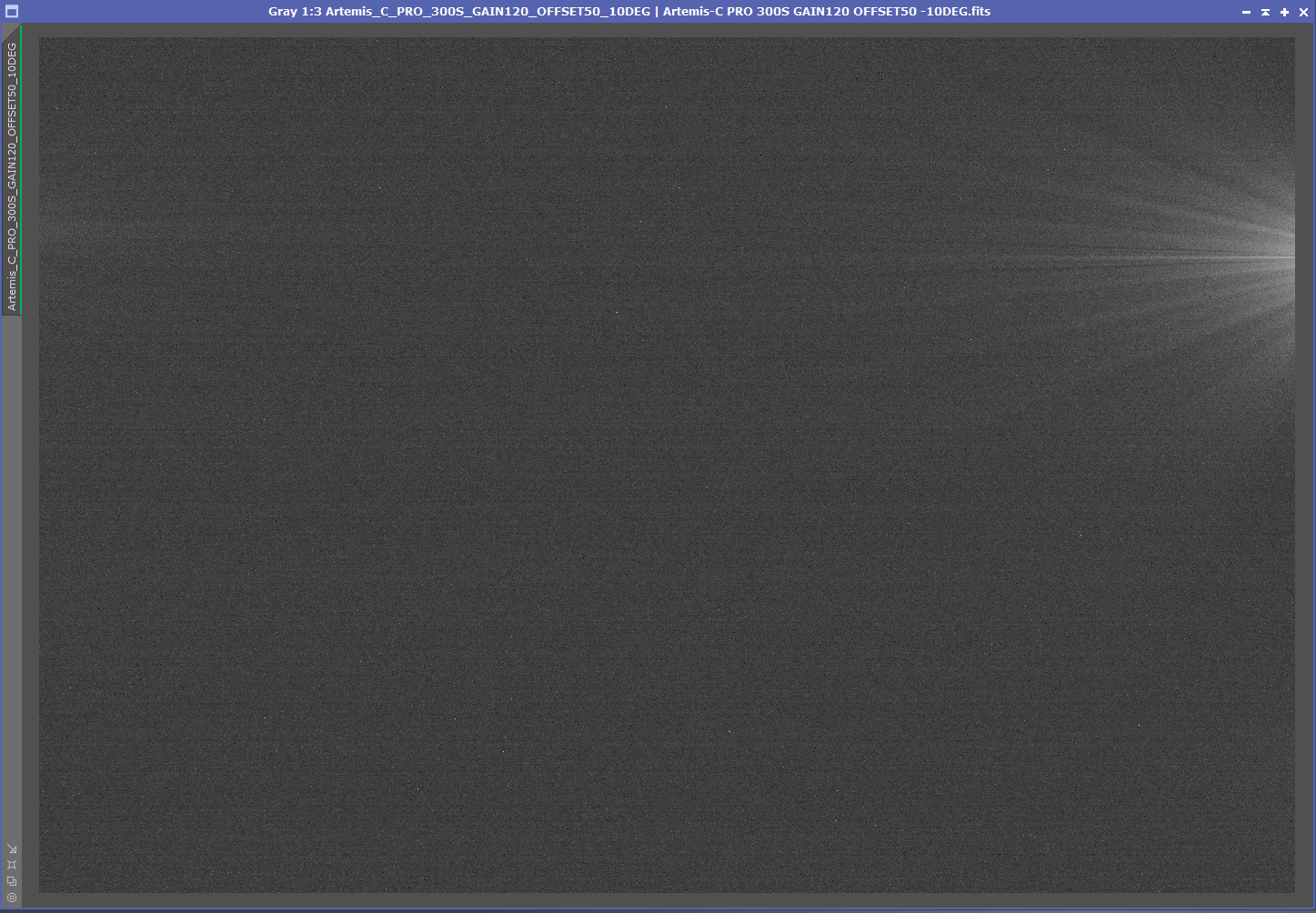 Preview of Dark frame 1: Exposure=300s, gain=120, offset=50, temp=-10℃   STF auto-Stretch in Pixinsight 1.86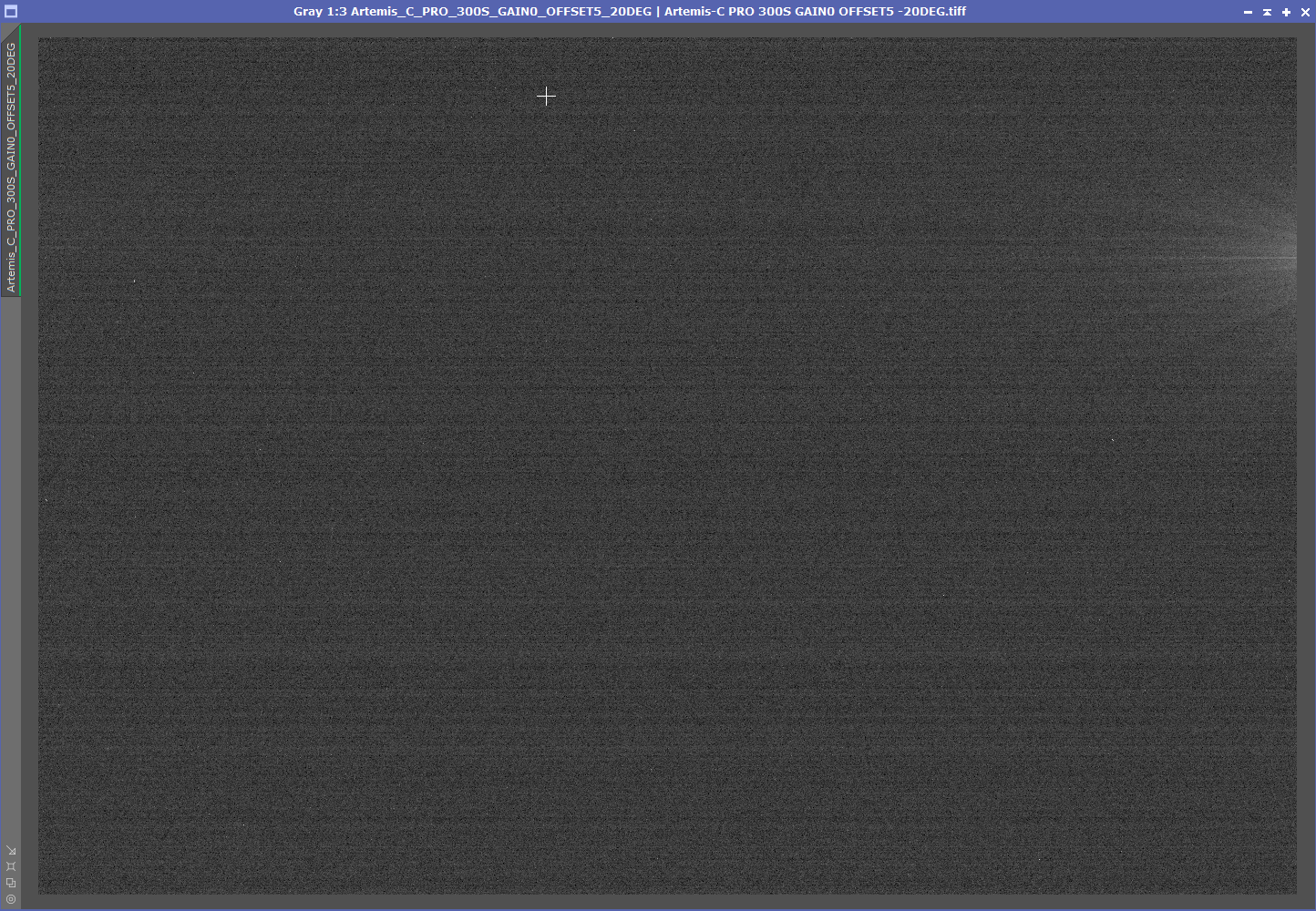 Preview of Dark frame 2: Exposure=300s, gain=0, offset=5, temp=-20℃   STF auto-Stretch in Pixinsight 1.86
Dark Current
The dark current is only 0.0015 e/s/pix at -20℃, and 0.0086e/s/pix at 0℃. In entire curve, dark current is almost like a straight a line, which can prove that Artemis camera has very good quality.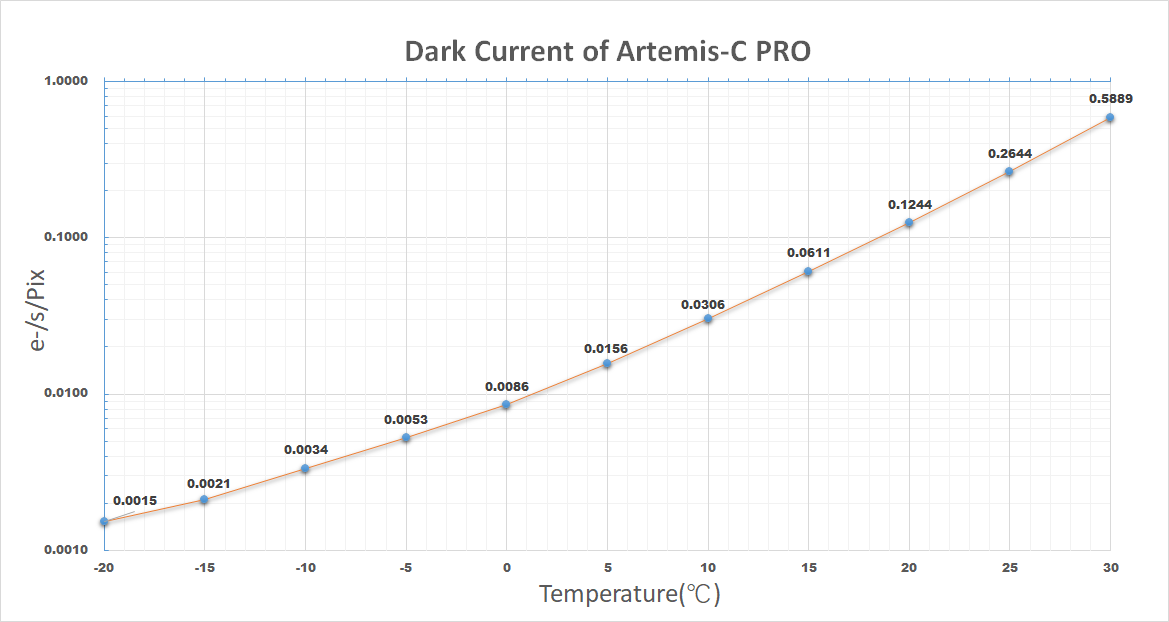 QE Curve
This is the Relative QE curve from Sony, we estimate the QE peak of IMX294 is about 75%.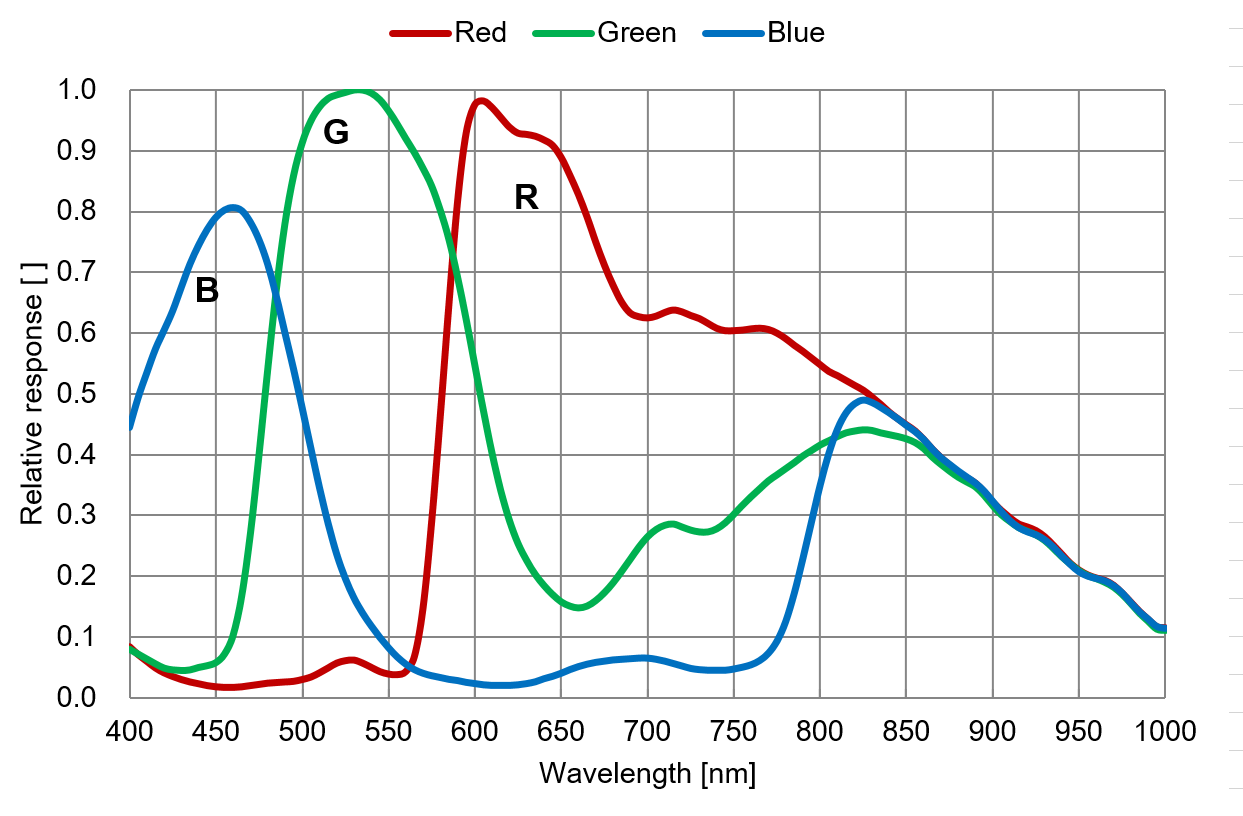 Mechanical Drawing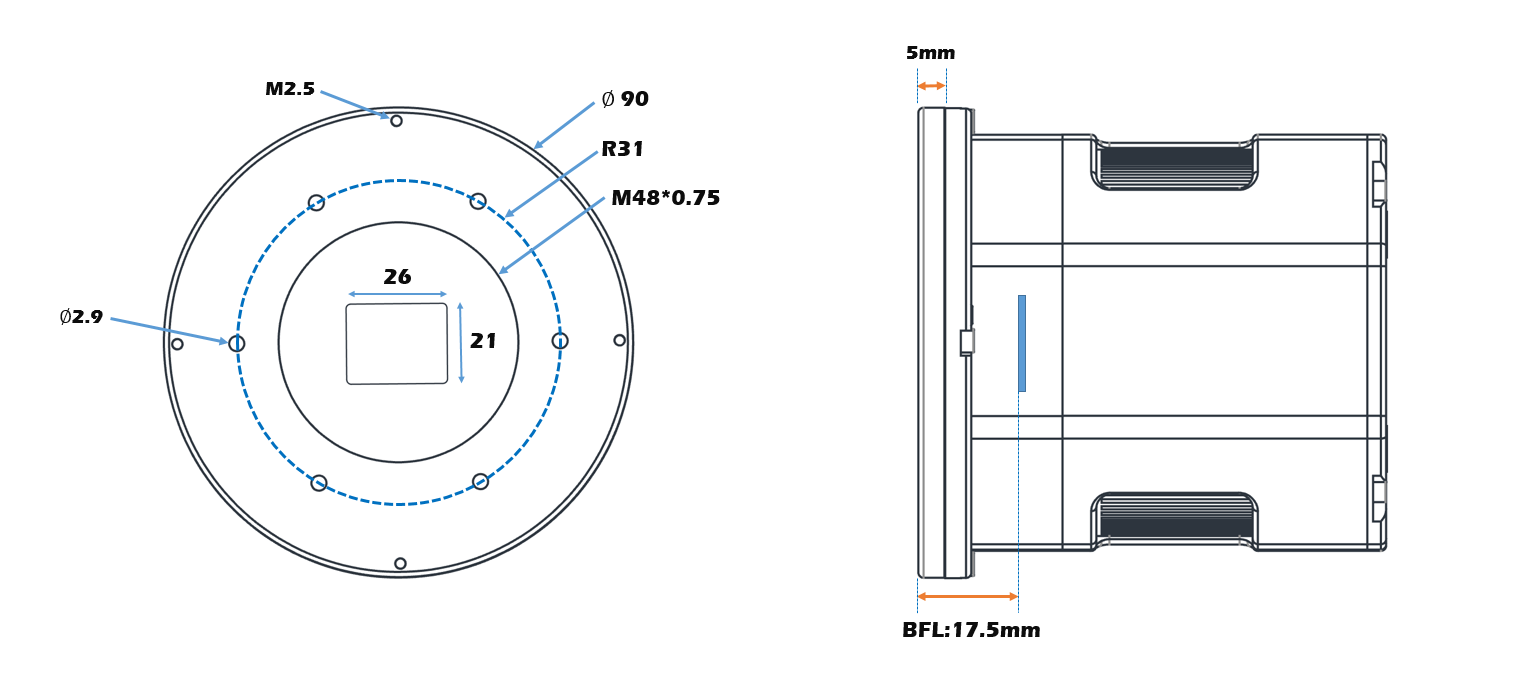 BFL Solutions

Package List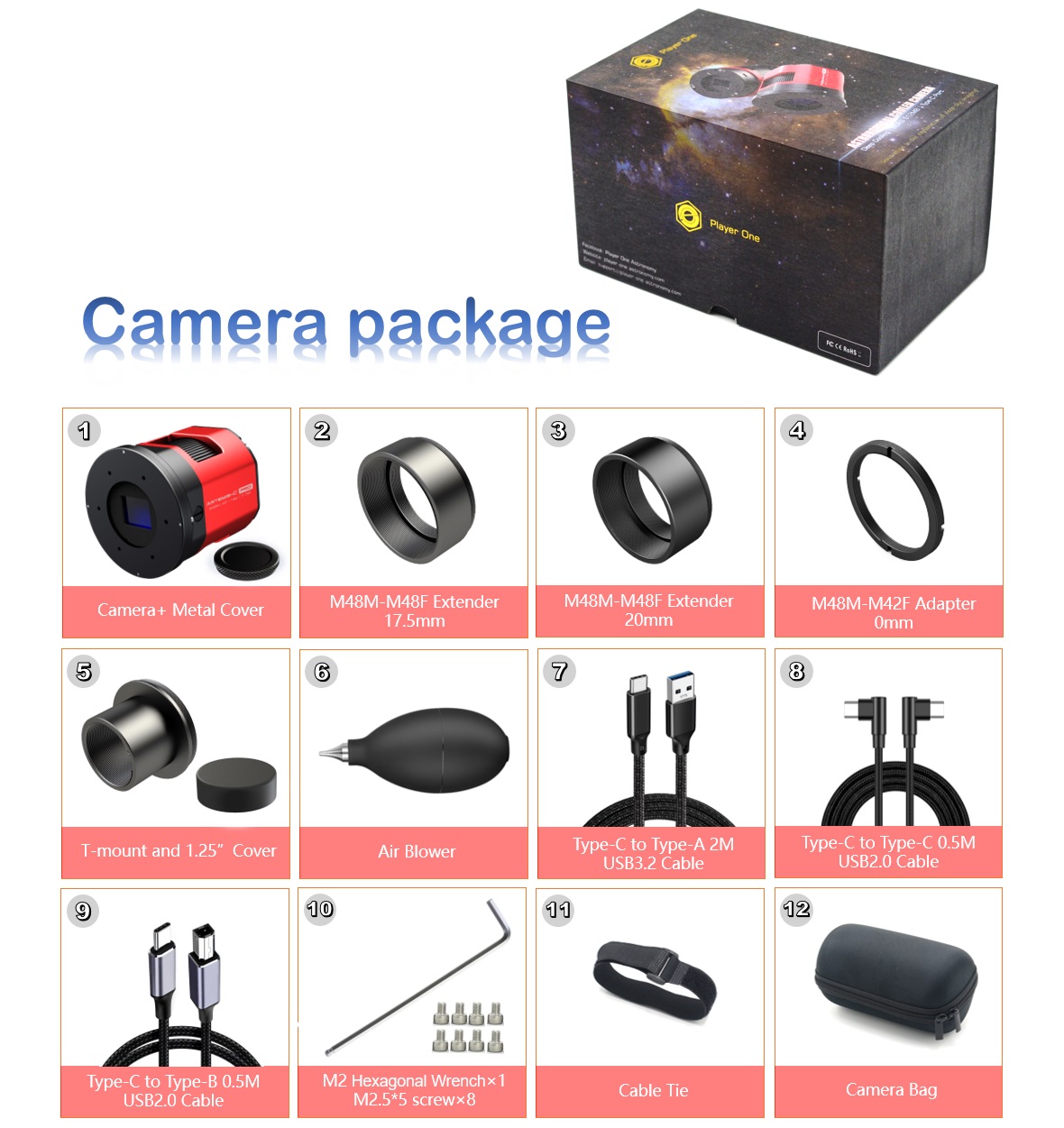 Users work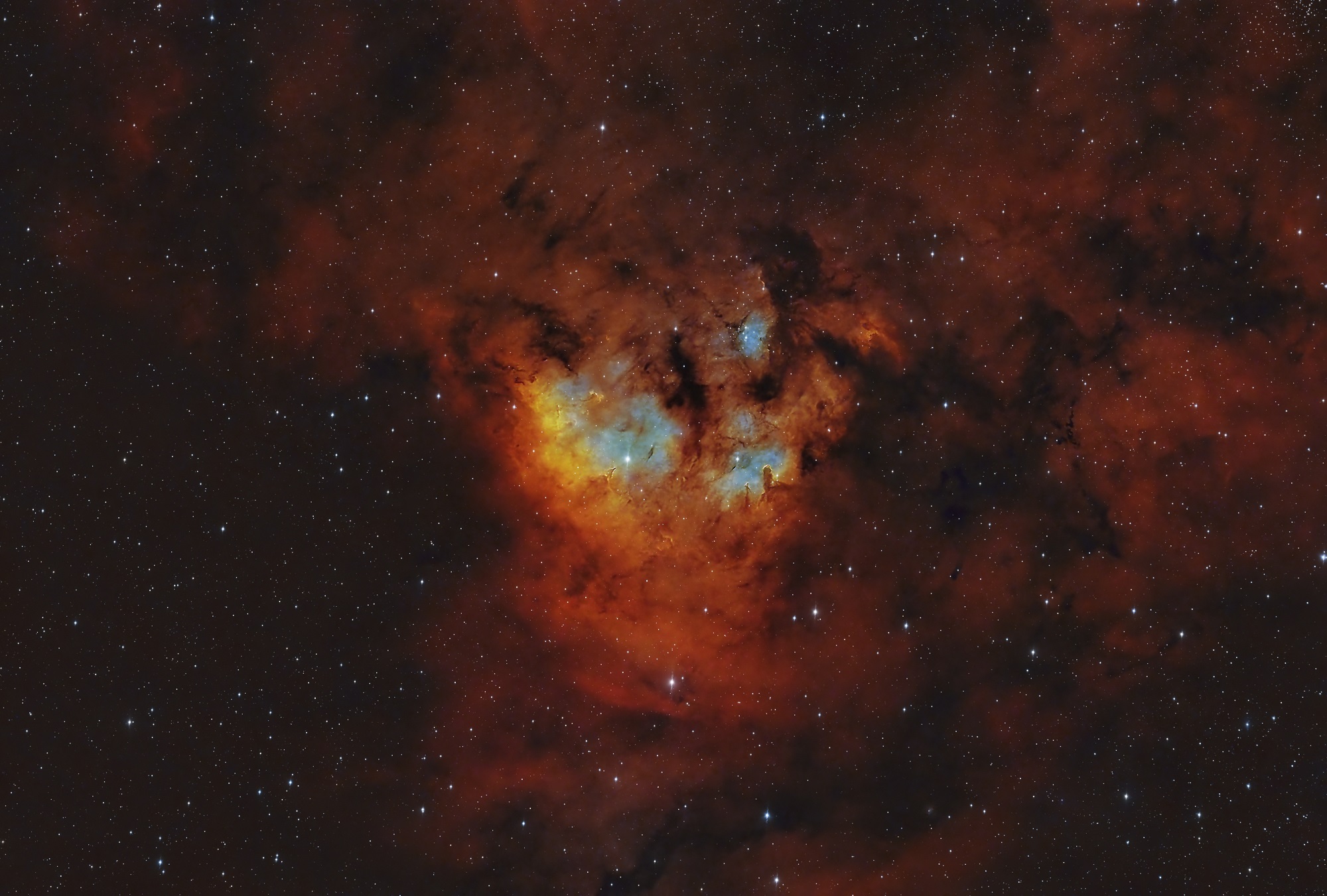 NGC7822, Luke Newbould, RASA8+Dual-band filter+Artemis-C Pro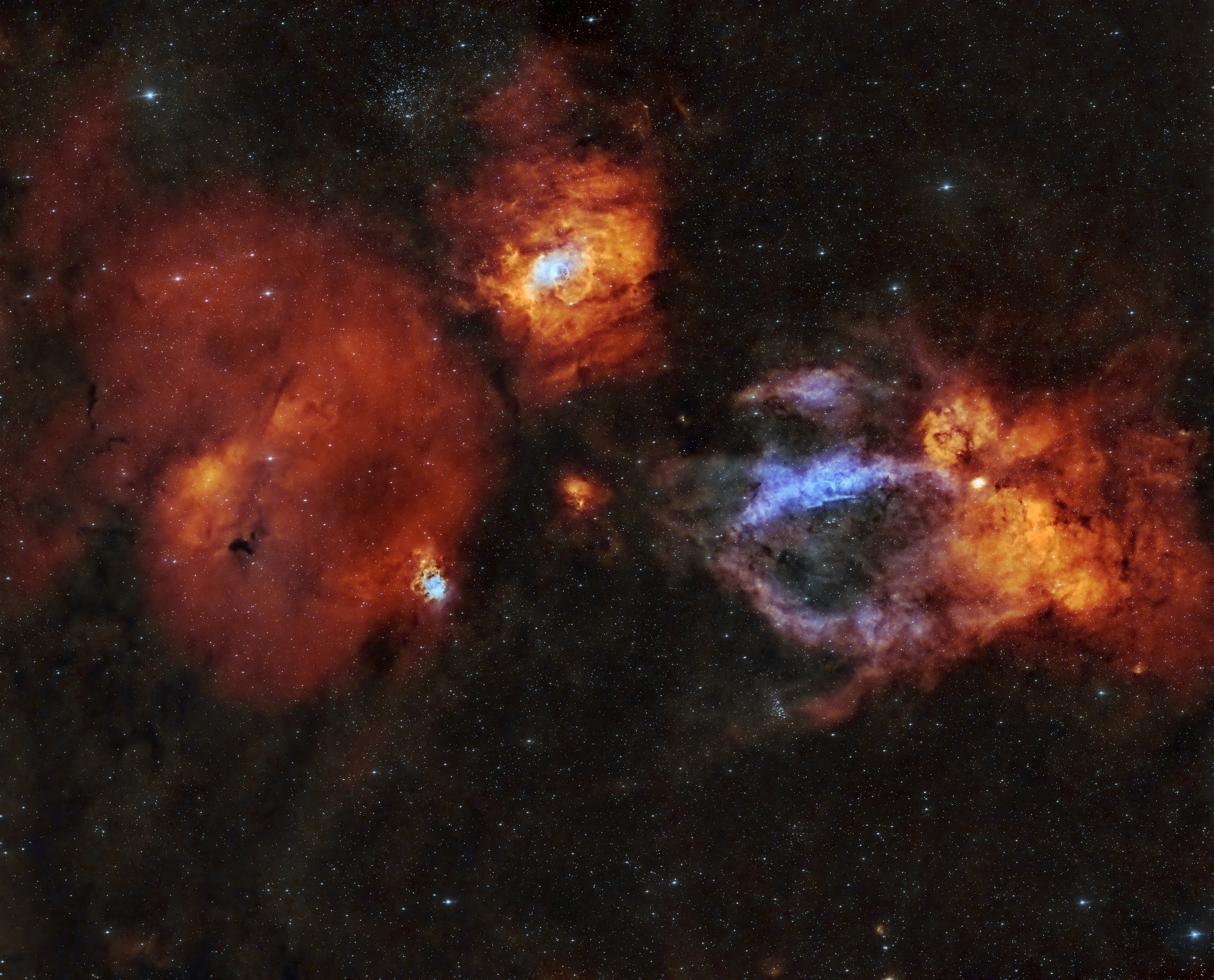 Lobster claw nebula and Bubble nebula, Luke Newbould, RASA8+Dual-band filter+Artemis-C Pro